About us
Come savor the delicacies of Thai cuisines at PJ Thai restaurant. Situated at 130 Marsh Street, Armidale NSW. Come and enjoy a meal at PJ Thai and get to choose from a wide selection of specialties from our menu. On offer are ENTRESS - Chicken Wings with Minced Stuffing and Thai Fish Cake. BBQ – BBQ Pork and BBQ chicken. CURRIES – Yellow Curry mild and Panang Curry mild. THAI SALAD (YUM) – Chicken and Beef Salad. MAIN COURSE – Basil Stir Fry, Garlic Stir Fry and Tasty Stir-Fry with Oyster Sauce and so many more. We will happily deliver to your door any meal you want if you order online from us.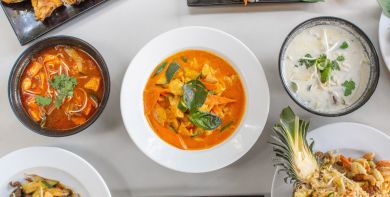 Reviews
Craig
"Nice food, well cooked, and tasty. Delivery was done with a smile, and very nice."
16/02/2020
Robyn
"All dishes except the fish were yummy!"
25/01/2020